Fullpost fulfillment center Slovakia-Hungary
The Fullpost warehouse is located near Budapest. Close to the Hungarian-Slovak border. (Fulfillment center phone number and map here)

Product fulfillment services for online stores
transparent prices and costs
You can use our service even if there are few products and few shipments
we undertake bar coding of the products
free fulfillment consultation without obligations (See more here: Free fulfillment consultation)
fulfillment services for startups
Supported ecommerce engines: Woocommerce, Unas, Shoprenter OpenCart, Shopify, integration of other unique engines is solved
returns management
can expand beyond the border
From 1 warehouse HU+SK+Europe
no exchange rate loss (invoices in HUF are invoiced in HUF, and invoices in EUR are invoiced in EUR)
you will have more time to develop your online store
Up to 1-day delivery to Hungary and Slovakia with Fullpost
our fulfillment warehouse is in direct contact with the Slovak and Hungarian courier services,
packaged orders are sent directly to Hungary or Slovakia and the EU on the same day.
Parcel delivery to other EU countries as well
we also send packages to other EU countries

Where is the Fullpost warehouse located?
Our fulfillment warehouse is near Esztergom, close to the Slovak-Hungarian border.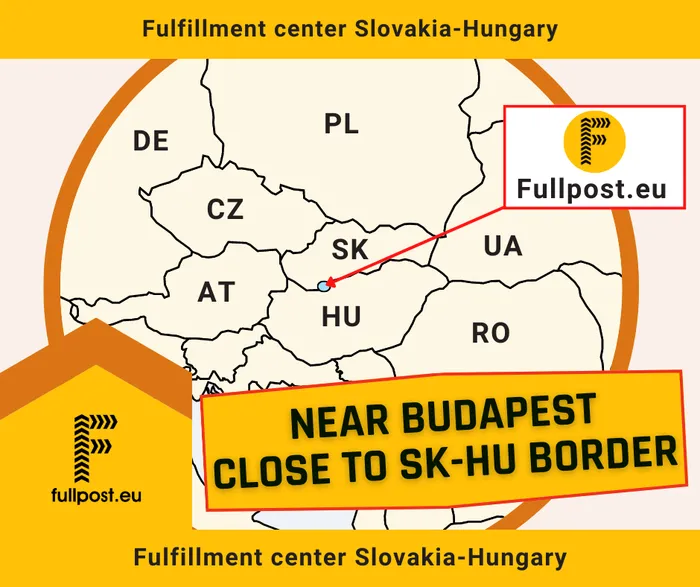 Hungary, Slovakia and Europe from 1 warehouse
With our fulfillment service, you solve the logistics of your ecommerce store to all European countries from one place.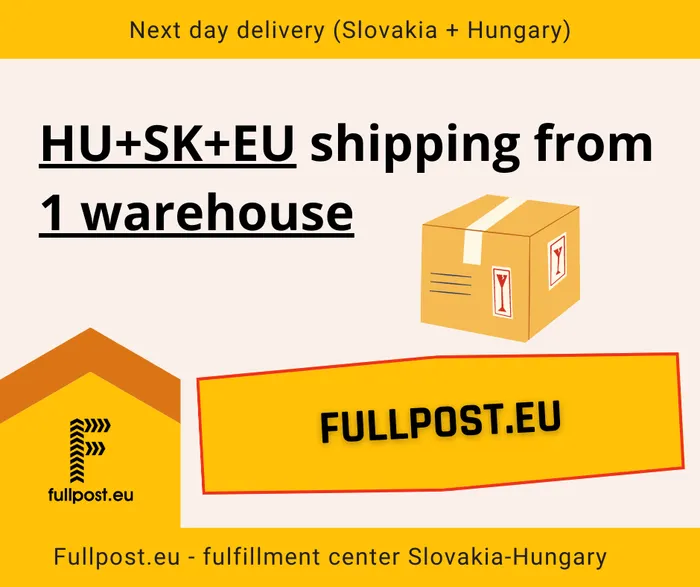 Fulfillment solutions - we take the trouble off your shoulders, we solve it for you:
1 - We store your goods
the goods can even come directly to us from your supplier
we receive the goods, count them, and notify you of the amount received
2 - We automatically accept your ecommerce store's orders
We connect your store to our system, so you don't have to do anything, yet the orders reach us immediately
3 - We prepare and pack the ordered goods
we provide the necessary packaging material
we label the packages
advertising material can be added if needed
4 - We prepare and send the invoice to the customer by e-mail
if your store does not create an invoice automatically, we will do it for you (your company must be listed as the seller on the invoice)
if we do the accounting for your company, the invoice is automatically entered in the accounting, it is possible to send regular automatic exports to other accountants
5 - We hand over the package to the courier service
Orders received by 12:00 noon will be shipped the same day

Next-day delivery to Hungary and Slovakia
to other EU countries (delivery time depends on the distance)
6 - Returns management
we accept undelivered and returned packages
we return the products to the warehouse, so they can be resold immediately

Free integration with Fullpost's system
The connection of your store and the information system of Fullpost is carried out by our specialists.
We review the exact conditions of the integration item by item during our free fulfillment consultation. Apply for the free fulfillment consultation: Free fulfillment consultation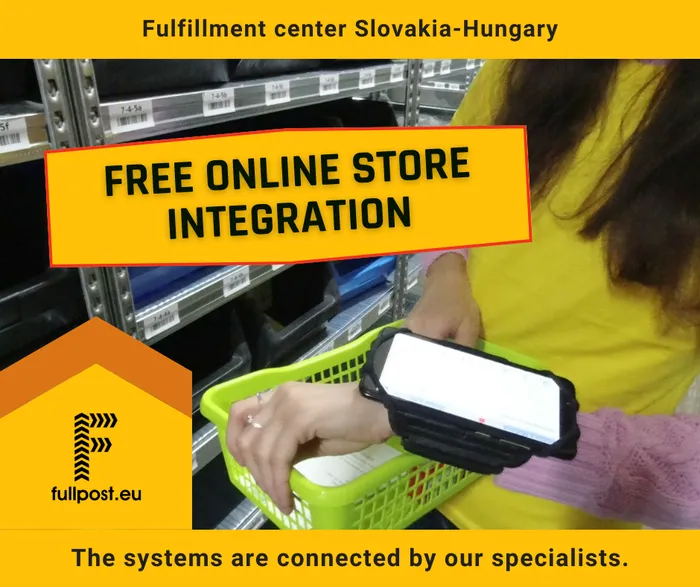 Supported e-commerce platforms: Opencart, Shopify, Shoprenter, Unas, Woocommerce, individually developed e-commerce engines.
Fulfillment consultation with personalized cost calculation free of charge
At the meeting, we will also honestly tell you if it is not worth it for you to outsource the logistics of your ecommerce store.


Supported e-commerce platforms
E-commerce platforms that can be immediately connected to our fulfillment service:
Opencart
Shopify
Shoprenter
UNAS
Woocommerce
It is also possible to connect other e-commerce engines.
Fulfillment warehouse video
- Hungary, Slovakia next day delivery
- HU, SK, EU served from 1 warehouse
Contact information here : Fulfillment center phone number and e-mail
Find us near Budapest. Close to the hungarian-Slovak border! (Štúrovo, Slovakia)

This is what our customers say about our company group:
"Thank you for all this work and for your helpfulness! I like working with people like that."

"...this is a very great innovation, thank you very much for the development! From now on, the process will be even easier. Working with you is an experience."

"We are extremely satisfied with your service, hats off to you."

"Dear Fullpost team! Your commitment to excellence has helped our business to grow, and for that our entire team will be forever grateful."

"It was a pleasant surprise, very professional administration."

"There were no problems, everything went perfectly."

"Everything happened smoothly, his colleagues helped me in everything, they did their job professionally."

"You do this at a high level."

"Everything happened in accordance with my expectations, I did not find any fault in it. They work on a flexible and good concept."

"What I got was just right."